You don't have to hang around me very long to know that my girl crushin' heart belongs to Miranda Lambert. I am literally a card carrying 'Ran Fan' fan club member. Prior to October 2010, I know of two times she was in my area - once at a Tulsa casino and once at a scary outdoor college festival in Stillwater. While I really wanted to see her then, I am a bit of a venue snob and held out for an indoor locale with less smoke, mud, and rowdy frat boys. It was worth it.
Here's a scrapbook page I created back then to commemorate the evening. Please don't squint to read the journaling! I've copied it below a bit larger.
When Miranda Lambert came through Tulsa as headliner for CMT's On Tour, I knew we HAD to go. No more failed attempts allowed! Chris got us tickets in the pit and I left early the day of the show to 'meet with our printers in Bixby.' That only took about 5 minutes. Afterword, I met the Mr. for an early dinner at Chick-Fil-A and a few hours of standing in the General Admission line. Although I was super pissed that they opened another door for people who hadn't spent the afternoon standing in line (and we had no opportunities for drinks), we ended up with a spot only one person back from the very front and center. Ahh! OMG
Josh Kelly opened (meh), followed by Eric Church. I had no expectations, but I thought Eric was kind of awesome. By the end of his set, I was REALLY ready for Miranda and pretty done with his fist pounding, but still... great entertainer.
And then there was Miranda. Um... amazing. She rocked, she rolled, she cried, she broke up a fight, she wore Guess jeans. And a white bra, as Chris was quick to point out. I was just happy we were close enough to notice such details! We nearly had a throwdown with a lady in front of us for trying to sneak her friend in front of me [Side story. On her husband, Chris says: "Woah! He looks like Ted Bundy." Me: "You mean Al Bundy?" Chris: "Same thing."] but then said lady left the building and I snagged her spot at the stage!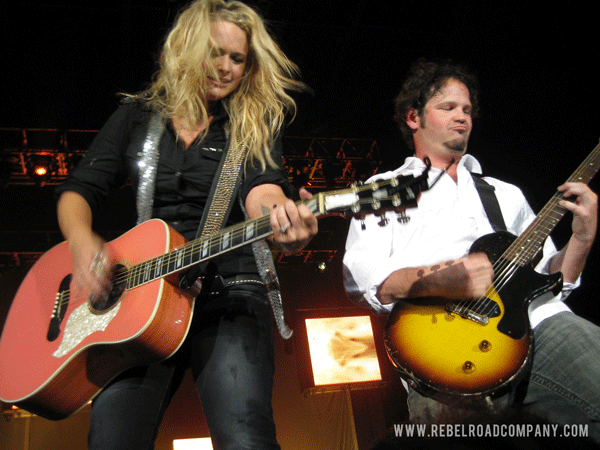 Miranda's huge heeled boots were like 4" from my face... and doing a lot of stomping. It was a little scary... and magical. We left with smiles, some Miranda sweat on our hands, and a Revolution bandana. Easily in my top 3, possibly #1, of all concert experiences. The set list [in no particular order]:
Only Prettier
Kerosene
Gunpowder and Lead
More Like Her
Dead Flowers
White Liar
I Love Rock & Roll
Long White Cadillac
Famous in a Small Town
Small Town Saturday Night
Rock & Roll Hoochie Coo
Time to Get a Gun
Heart Like Mine
World Go Round
Me & Your Cigarettes
Sin for a Sin
Maintain the Pain
Somewhere Trouble Don't Go
House That Built Me
The Weight (with Eric and Josh)
I've honestly lost count of how many times I've seen her since this night. I've met her twice now (does that count for BFF status?). I've volunteered for her MuttNation Foundation. I've been to both of her stores. Basically... she rocks my face off (as my mom would say).
Are you a fan? [Trick question.... there's only one right answer. Wink wink.]