A few springs ago, I was talked into ridiculousness by the Mr. Here's a guesstimation of how the conversation went:
C: Hey, let's do an Iron Butt ride!
A: What is that?
C: 1,000 miles in 24 hours on the motorcycle.
A: Why?
C: Because it's badass!
A: That's stupid. I'm not doing it.
C: What if I bought you a Kindle?
A: Weeellllllll... OK.
And so we set out for Lewisville, TX on a Friday afternoon, soaked right through our rain suits during a hellacious thunderstorm and tornado warning somewhere around Stringtown, OK (to date, this is the worst rain I've ever ridden in), and arrived at our hotel just in time to see the sunset. The curtain rods made a nice place to hang our wet clothes.
Crazy early the next morning, we checked in with maybe 30 other bikes at a Whataburger in The Colony. To officially earn your Iron Butt credentials (sounds prestigious, right?), you have to follow criteria as set by the Iron Butt Association: use their route, get fuel receipts from certain places, have other receipts time stamped, etc. The route is released the morning of the ride. Our route put us at approximately 1,500 miles for the 24-hour period, and THEN we had to ride the 250 miles back home.
Not much to note about the actual 1,000 mile part of the ride. I read a few blogs to prepare myself and they did nothing but scare me. Lots of people couldn't or didn't finish. Some said not to eat. Some said to avoid caffeine. Some recommended several changes of clothes. And on and on and on. I realize there are lots of variables with this sort of thing and all I had to do was sit back and collect gas receipts, but we completed our thousand motorcycle miles plus a steak dinner at Applebees in about 16 hours without a struggle.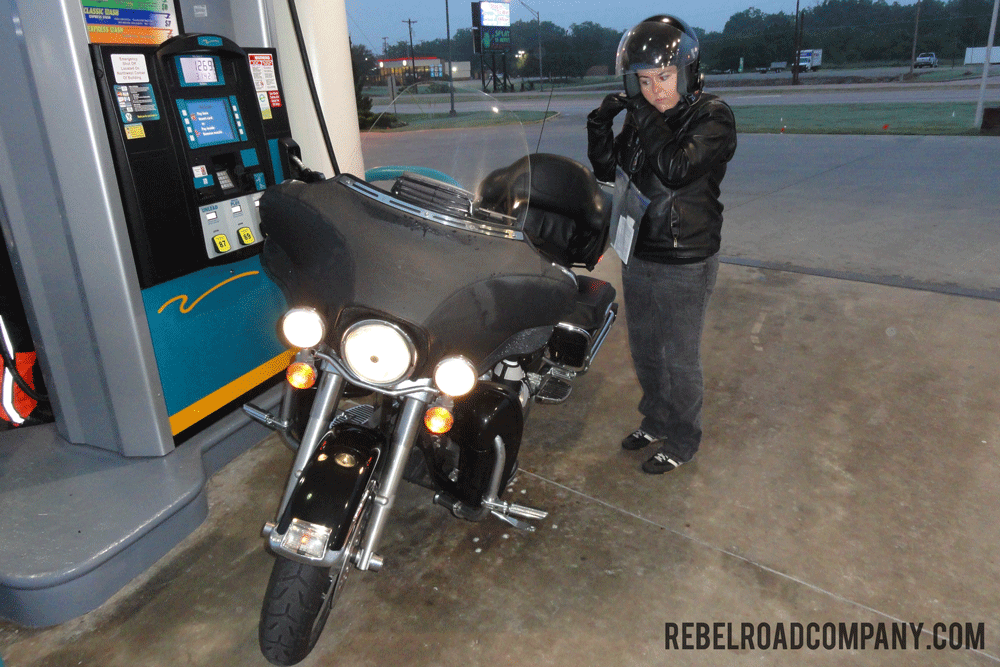 Should you find yourself embarking on an Iron Butt quest of some sort (they have all sorts of rides and levels), here are some things that helped me through as a passenger:
Wear comfortable clothes and shoes. I'm sure a full riding suit and boots would probably have been safer, but I wore my most comfy jeans and tennis shoes. Thin layers are always good, no matter the season.
Avoid gut bombs. We basically snacked on healthy-ish gas station food throughout the day to tide us over 'til dinner. Think water, granola bars, peanuts, string cheese, bananas, etc.
Watch the weather. Try to choose a time and place for a ride that won't put you in 120 degree temperatures. We completed our ride in April and avoided heat but not the rain. I'd much rather deal with rain.
Bring an e-reader. Obviously this doesn't apply if you're the rider, but passengers... this saved me. I'll post soon about my set-up.
All in all, it was a pretty good time. I was exhausted for work on Monday, but the bragging rights were pretty worth it. What's the weirdest thing you've accomplished?